Sambucus Elderberry Gummies with Zinc & Vitamin C. Great-Tasting Women & Men's Daily Herbal Supplement for Immune Support & Skin Health. Natural Elderberries. Vegan & Gluten-Free
Description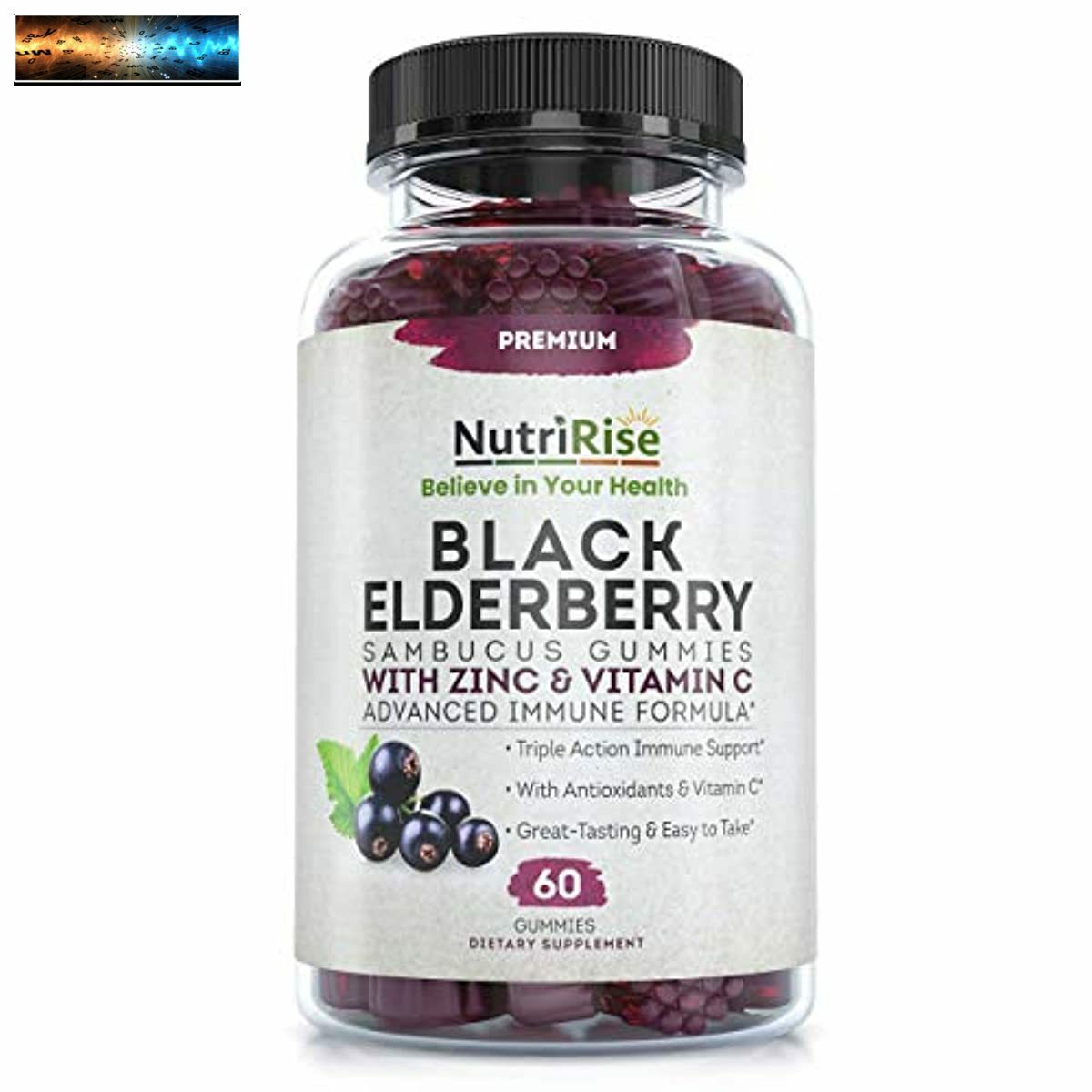 Why Choose Our Elderberry Gummies?
Our immune systems are complex and made up of lots of different tissues, organs, and cells. They all work together synergistically to keep us safe and healthy. But if you have a lack of sleep, stress, lack of exercise, or an unhealthy diet, your immune system can become severely weakened. A weakening of our immune system leads to an increased risk of illness and puts you at risk for a variety of conditions from the common seasonal challenges to autoimmune conditions.
Each year, as fall turns into winter, our attention turns to our health. Even for the healthiest among us, seasonal bugs may cause days of missed work, missed school, and potential for transmitting to other people, further spreading and perpetuating the problem. During fall and winter, daycares and schools are particularly susceptible to outbreaks of common microorganisms because of the vast numbers of children in close contact with one another, inadequate handwashing and frequent lack of personal consideration and hygiene, such as covering the mouth.
Our immune system is under constant attack and with elderberry gummies, your body will get the boost it needs to fight off immune challenges and keep you healthy.
Leading Formula. Maximum Results. Fast Absorption
#1 Elderberry Gummies:
100 mg Elderberry (Sambucus nigra)
With 100% DV Of Vitamin C + 7.5 mg Zinc
Made With Non-GMO Ingredients
Gluten-Free & Dairy-Free
Vegan-Friendly
No Artificial Flavors Or Colors
Manufactured In The USA
Third-Party Tested For Purity
What Makes Our Elderberry Gummies The Best?
What Makes Our Elderberry Gummies The Best?
Elderberries are rich in flavonoids that offer many health benefits. Vitamin C is essential for life, and it must be obtained from dietary sources. Elderberries are naturally rich in vitamin C, but we have added an extra amount for superior results. We have also added zinc as zinc supplementation can help strengthen immune cells.
Undernutrition and lack of adequate levels of zinc & vitamin C can increase susceptibility to respiratory tract infections.
Our Elderberry Gummies Help To:
Boost Natural Defenses
Strengthen Immune System
Support Natural Protective Activity
Support Healthy Immune Responses
Enhance Protective Proteins
Strengthen The Respiratory System
Fight Free Radicals & Stress
Beautify Hair, Skin & Nails
The Many Benefits Of Elderberries - Backed By Science
Supports The Body's Defenses Against Seasonal Challenges:
Proper immune function requires protective compounds like vitamin C contained in our formula. But Elderberries offer even more: some of their bioactive components can support immune cells in their defense functions, helping to prevent seasonal challenges, or improve their duration and severity when they cannot be avoided. *
Improves Protective Activity:
The ORAC scale, or Oxygen Radical Absorbance Capacity, measures a 's total protective capacity. In the top 100 foods, ground cloves take top honor with a score of 314,446. Elderberries fall at 39th place, with an ORAC score of 14,697, ranking it pretty high in the list of protective foods. Only a few berries rank higher, including goji berries & maqui berries. *
Strengthens Natural Defenses & Immune System Function:
The natural components in black elderberries have been shown to stimulate immune cell proliferation and the production of protective proteins. Defense cells and proteins are your body's weapons to fight an invaders, and the more of them you have the better you will React when you face an immune challenge. *
Supports The Respiratory System:
Many of the immune challenges & issues we face on a regular basis affect the respiratory system. Black elderberries have components that can improve unhealthy processes and promote immunomodulating benefits, supporting the decrease in length and in severity of temporary, immune-related discomforts. *
Helps to Support Protective Processes:
Illness causes increased oxidative stress, which can be decreased by protective compounds like vitamin C and flavonoids. Reactive oxygen species are constantly produced by our immune cells to fight off invaders, and they need to be neutralized not to harm our own cells and affect our health. Elderberries may help relieve this strain on your body and help provide a layer of protection. *
ELDERBERRY PLUS ZINC & VITAMIN C FOR OPTIMUM IMMUNE SUPPORT:
Our delicious gummies contain 100% DV vitamin C, 68% DV zinc, and elderberry components such as flavonoids for superior protective activity and immune boost.
NON-GMO INGREDIENTS. NO ARTIFICIAL INGREDIENTS, HARMFUL BINDERS OR FILLERS:
Our Elderberry Gummies are 100% natural, manufactured without any harmful fillers, additives, binders, chemicals, or artificial colors and ingredients. We also work hard to minimize, if not completely eliminate, GMOs from our supply chain to ensure product safety while protecting our natural resources and moral responsibility to our valued customers.*
ALLERGEN-FREE FOR MAXIMUM SAFETY:
At NutriRise, we understand that dietary supplements, such as those sourced from foods can cause allergic reactions because they either consist of ingredients derived from high-risk allergenic foods, such as soy lecithin, or due to cross-contamination from encounter with allergenic ingredients during the manufacturing process. For that simple reason, although it is not mandated by the FDA, we test each and every lot of raw materials and finished products to ensure they are 100% allergen-free before they are brought to the market.*
Proudly Manufactured In The United States of America:
At NutriRise, we believe you deserve the best. Customer safety is our highest priority. That's why all of our supplements are manufactured in an FDA-Registered, GMP-Certified facility in the United States. All raw materials and finished products are tested in the United States.
4 Stages Of Testing - Independent & Third Party Tested:
All of our products are tested four times throughout our supply chain. Once, when we receive raw ingredients, again during manufacturing, with further testing on finished products. Our products are also third-party tested by an unbiased, independent organization. This approach ensures our products meet exacting specifications, and that they are safe. In addition, each and every product has an allocated lot number, batch number and expiration date printed on the bottom of the bottle for traceability and transparency - in fact, you can request a COA (Certificate of Analysis) for each product to learn more.
Vitamin C: 90mg
One cup of elderberries contains 52.2 mg of vitamin C, almost the entire amount of the daily recommended intake of vitamin C (65 to 90 mg). And our gummies contain extra vitamin C to provide the full 90 mg you need. Vitamin C is an essential water-soluble vitamin that humans have to ingest because our bodies don't make it. Vitamin C plays a vital role in many bodily functions, as collagen and protein metabolism. Vitamin C is also a protective compound. It is shown to help reduce both the incidence and the duration of seasonal bugs when vitamin C was taken before the onset of symptoms. *
Black Elderberries: 100mg
Elderberries have been traditionally used in herbal medicine to help reduce irritation and fight symptoms of seasonal bugs and other conditions. Hippocrates referred to the elder tree as his "medicine chest", and current research has backed that claim up. Black elderberries are the most common variety of elderberry, called Sambucus nigra. This species has been used by Native Americans and people of the Mediterranean basin and surrounding areas for both medicinal and dietary purposes. Elderberry is rich in potent protective compounds and is also a good source of Vitamin C. *
Zinc: 7.5mg
Zinc is important for cellular division and differentiation, essential for defense cells. It is also fundamental to functions such as protective defense and collagen synthesis. Zinc cannot be stored in the body and needs to be obtained continuously. Its deficiency leads to severe immune dysfunctions, growth retardation, and cognitive impairment. Zinc works as a protector in the stabilization of membranes and has protective properties. Groups at greater risk of inadequate zinc intake are children aged 1-3 years, female adolescents aged 12-19 years, and elderly aged over 71 years. *
100% Based
Some polyphenols, polysaccharides, peptides, proteins, triterpenoids, lipid derivatives and glycoproteins present in plants have health benefits such as protective properties, being capable of modulating immunological processes. Elderberries are rich in many of these compounds, and have strong inhibitory effects on nitric oxide production that is involved in unhealthy processes in macrophages and dendritic cells. Quercetin, rutin, and kaempferol were the most potent phenolic compounds involved in these effects. Our gummies are 100% based - it's nature's power at its finest! *
[US Domestic Shipments
All items are shipped within 24 hours ~ 72 hours of payment, unless specified otherwise in the item details page, via USPS First Class Mail, or Priority Mail, which takes about 2 to 9 business days within USA. If you need your item by next day, second day air delivery, please email me and I will provide you with the information. All orders will be shipped only to the address listed at the time of the transaction.
International Shipments
All items are shipped within 24 hours ~ 72 hours of payment, unless specified otherwise in the item details page, via
1) USPS First Class Mail Int'l which takes about 15 ~ 25 business days
2) USPS Priority Mail Int'l which takes about 14 ~ 20 business days
3) Fedex Priority Express, which takes about 7 to 10 business days,
However, these are only normal estimated delivery schedule, so all three services, mentioned above, can vary based upon origin, destination, and local customs processing. We are not responsible for any customs delays what so ever. However, Import duties, taxes, and charges are not included in the item's price. These charges are the buyer's
responsibility. Please check with your country's customs office to determine what these additional costs will be prior to bidding or buying. Furthermore, we are not responsible for any customs delays what so ever. If you have any questions please contact me before bidding. All orders will be shipped only to the address listed at the time of the transaction.
Thank you.]
PAyments
[We accept payments through Ebay managed payment, and PayPal.
Sorry but I DO NOT accept Cash, or Checks as payment.]
Returns
Only domestic returns will be accepted for unused items if mailed within 14 days of delivery date. Sorry but we do not accept returns for Int'l orders. All products have to be in the same brand new condition as received including all accessories, packaging material, and it's original box. Please contact me before returning an item so that we can avoid any problems that can occur. However, make sure the item is insured and track able. Rarely it gets lost but it happens and I'm not responsible if it does get lost in transit.