When ordering from the US, parcels may be subject to import tax and duty charges, which the buyer is responsible to pay.
Vegan Omega DHA+EPA MD-Certified Prenatal DHA with epa 8X More DHA Than Kril
This product data sheet is originally written in English.
Vegan Omega DHA+EPA | MD-Certified Prenatal DHA with EPA | 8X More DHA Than Krill Oil! Fish-Free Omega Essential Fatty Acids - Algal Omega-3, Omega-6, DHA, EPA
Description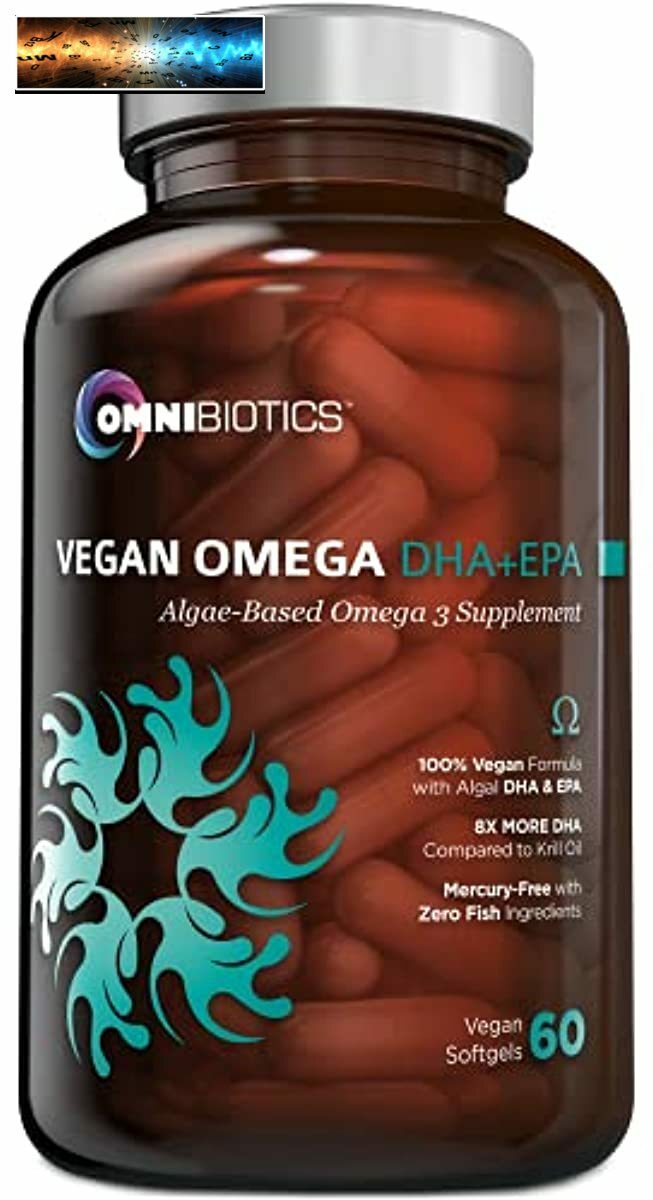 OmniBiotics Vegan Omega DHAx - Vegan Omega 3 Supplement - 100% Fish-Free - 60 capsules
A Perfect Fish-Free Alternative
Vegan Omega DHAx is derived from microalgae grown in laboratory manufacturing conditions. It's naturally rich with Omega 3 essential fatty acids and may be even more effective when compared to fish oil. In fact, Algal DHA has 8X MORE DHA when compared to krill oil.

Free of Ocean-Borne Contaminants, Oxidation
Animal based omega-3 DHA and EPA supplements are fragile and highly susceptible to damage by oxygen which can reduce their health benefits and even make them damaging to your body. Fatty fish or fish oils may contain potentially harmful pollutants such as dioxin and mercury. Vegan Omega DHAx is a clean, safe alternative DHA option.

Critical for Cognitive & Visual Function
DHA is the most abundant omega-3 fatty acid in the brain (it comprises over 50% of the fatty acids in the brain's gray matter and retina). Vital for brain development & eye health. Growing evidence from scientific research shows that Omega-3 DHA is one of the most important benefits to your health available today.

Less Is More
Algal oil supplements may have a lower recommended dose than fish oil supplements. Vegan Omega DHAx is formulated to be better for human metabolism and is more concentrated in omega-3s and DHA.
SAY GOODBYE TO CHEMICALS AND FISH BURPS
Most Omega DHA supplements use fish oils which can accumulate toxins such as mercury, dioxins and polychlorinated biphenyls (PCBs). Our ultra-concentrated Algae Omega formula is derived from farm raised algae, is free of heavy metals and toxins, and is more sustainable than fish oil. With burpless, fish free pills, fish burps are happily a thing of the past!
WORKS GREAT AS VEGAN PRENATAL DHA
Proper nutrition during pregnancy is not just vital to the mother's health — it's also essential to the healthy development of her offspring now and into adulthood. It is difficult to fulfill all of your nutritional needs during pregnancy with a healthy diet alone. If you're a pregnant vegetarian or vegan, then you'll likely need to supplement omega-3 fatty acids like DHA.
DHA is vital for development
Give your child the opportunity to thrive from day one. With DHA being such a critical element for brain development and function, it is essential to make sure your little ones get enough DHA. Taking a vegan source that is more absorbable than traditional fish oils every day is the optimal way to achieve this.
DHA benefits anyone & everyone
Not only is vegan DHA a vital factor in child development, but it is also a supplement that benefits the entire family. DHA deficiency can cause a wide range of symptoms, including dry skin, sleep problems, and poor concentration. Having a clean source of omega-3 DHA means that you're giving your brain and your body what it needs to perform at it's best.
Clean body, clear conscience
Enjoy peace of mind knowing that you are both consuming a 100% fish and cruelty-free product, and also treating your body to the purest, most natural form of DHA available. Try OmniBiotics Vegan Omega DHAx today, and see why most people prefer our vegan form of DHA over conventional fish oil.
Ashwagandha Turmeric Curcumin Liver Reboot Vitamin C + D3 + Zinc + Elderberry Milk Thistle Magnesium Glycinate Vegan-Friendly ✓ ✓ ✓ ✓ ✓ ✓
[US Domestic Shipments
All items are shipped within 24 hours ~ 72 hours of payment, unless specified otherwise in the item details page, via USPS First Class Mail, or Priority Mail, which takes about 2 to 9 business days within USA. If you need your item by next day, second day air delivery, please email me and I will provide you with the information. All orders will be shipped only to the address listed at the time of the transaction.
International Shipments
All items are shipped within 24 hours ~ 72 hours of payment, unless specified otherwise in the item details page, via
1) USPS First Class Mail Int'l which takes about 15 ~ 25 business days
2) USPS Priority Mail Int'l which takes about 14 ~ 20 business days
3) Fedex Priority Express, which takes about 7 to 10 business days,
However, these are only normal estimated delivery schedule, so all three services, mentioned above, can vary based upon origin, destination, and local customs processing. We are not responsible for any customs delays what so ever. However, Import duties, taxes, and charges are not included in the item's price. These charges are the buyer's
responsibility. Please check with your country's customs office to determine what these additional costs will be prior to bidding or buying. Furthermore, we are not responsible for any customs delays what so ever. If you have any questions please contact me before bidding. All orders will be shipped only to the address listed at the time of the transaction.
Thank you.]
PAyments
[We accept payments through Ebay managed payment, and PayPal.
Sorry but I DO NOT accept Cash, or Checks as payment.]
Returns
Only domestic returns will be accepted for unused items if mailed within 14 days of delivery date. Sorry but we do not accept returns for Int'l orders. All products have to be in the same brand new condition as received including all accessories, packaging material, and it's original box. Please contact me before returning an item so that we can avoid any problems that can occur. However, make sure the item is insured and track able. Rarely it gets lost but it happens and I'm not responsible if it does get lost in transit.
| | |
| --- | --- |
| MPN | Does not apply |
| Brand | OmniBiotics |
| ISBN | Does not apply |
| UPC | Does not apply |
| EAN | Does not apply |