When ordering from the US, parcels may be subject to import tax and duty charges, which the buyer is responsible to pay.
Glucosamine Chondroitin MSM Turmeric 2100mg - 3X Triple Strength Joint Supplemen
This product data sheet is originally written in English.
Glucosamine Chondroitin MSM Turmeric 2100mg - 3X Triple Strength Joint Supplement for Men & Women. Supports Pain Relief for Knees, Back, Hips & Inflammation. Gluten-Free & Non-GMO
Description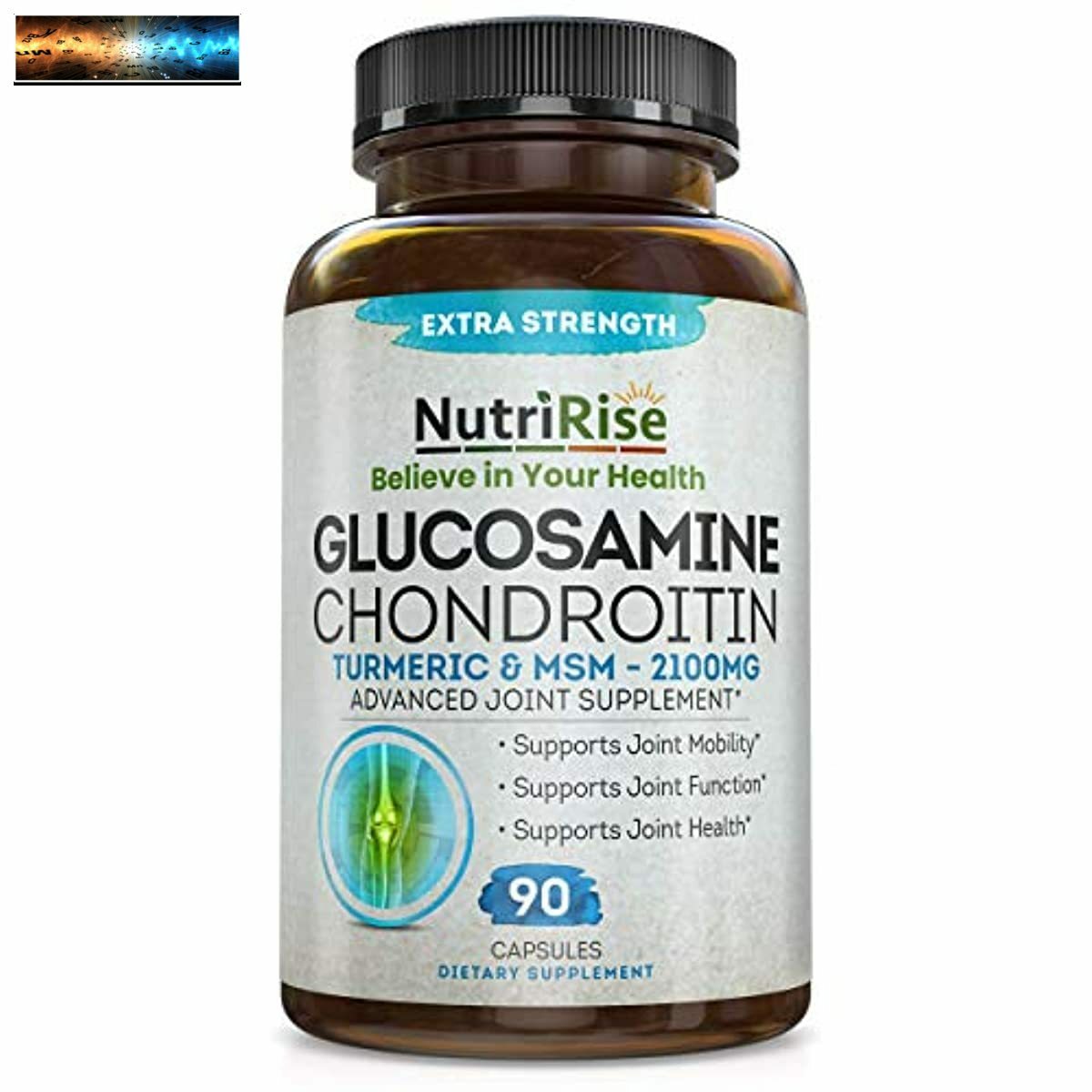 Why Choose Our Glucosamine Supplement?
Do you suffer from constant joint pain? Do you take pain relievers every day, but find they don't do the job? Are you frustrated with your limited activity because even basic tasks hurt too much? If you answered yes to any of these questions, your joints are crying out for help. As we get older, our cartilage begins to thin, and we lose the cushion between our joints. This leads to pain.
Imagine waking up and starting your day without stiff, aching joints. Going for an afternoon walk without your knees hurting. Our Advanced Joint Supplement helps to restore glucosamine and chondroitin within your joints.
There is a reason our joints begin to hurt as we age. Between each joint is an extremely tough, flexible substance called cartilage. It's made up of water and a gel-like material called matrix. Glucosamine helps keep cartilage strong and acts as a natural shock absorber. However, it decreases with age. Chondroitin is a gel-like substance containing proteins and sugars found in our cartilage. It also helps bind cartilage together, and it too decreases with age. By the age of 50, over 80% of adults have some degree of osteoarthritis.
Adding our glucosamine supplement helps to restore what age stole from you. But how do you know it works? Studies show that our bodies absorb 90 to 98% of oral glucosamine. The molecule size and simple structure allow our bodies to absorb it and put it right to work, restoring and soothing your joints.
We take joint health seriously. We paired glucosamine with chondroitin because studies show the two ingredients work better together than alone. We also added in Frankincense extract (boswellia), to help soothe and naturally reduce joint pain. Quercetin and bromelain are ingredients that help to balance your immune response, further reducing pain and irritation. MSM and Methionine help rebuild and repair your cartilage. Each scientifically proven component in our formula is carefully crafted with your complete joint health in mind.
Leading Formula. Maximum Results. Fast Absorption
#1 Glucosamine Chondroitin Supplement
Maximum Potency 495 mg
Made with Non-GMO Ingredients
Gluten-Free & Dairy-Free
Made with Natural Ingredients
Manufactured in the USA
Third-Party Tested for Purity
Keto and Paleo-Friendly
Gelatin-Free & No Binders
What Makes Our Glucosamine Chondroitin Supplement The Best?
8 Powerful Ingredients For Complete Joint Health
Did you know you can repair and rebuild your cartilage? What was once thought to be an unavoidable part of aging is no longer mandatory. We formulated our Advanced Joint Support to strengthen, protect, soothe, repair, and rebuild your cartilage. Made with the highest quality, natural, non-GMO ingredients, our formula is gelatin-free and gluten-free. We've eliminated two common allergens that may cause joint pain in sensitive individuals.
Our Glucosamine Chondroitin Supplement Helps To:
Enhance joint comfort*
Rebuild and repair cartilage*
Improve joint mobility and flexibility*
Support a healthy immune response*
Improve wound healing*
Reduce joint pain and irritation*
Support healthy cardiovascular function*
Stimulate the removal of harmful substances*
The Many Benefits Of Glucosamine - Backed By Science
Glucosamine 1500 mg & Chondroitin 150 mg for Cartilage Protection: Cartilage breakdown causes pain. Whether it's from age or injury, without the right amount of cartilage, your joints will hurt. Glucosamine and chondroitin are scientifically proven to work together to create new cartilage ground substance. They also help provide support and structure to the existing cartilage. While other brands offer these ingredients individually, we pair them because they intensify each other's effect for superior benefits.
Boswellia 200 mg & Turmeric 150 mg for Soothing Pain Relief: Tired of dealing with aching joints? As cartilage thins and bone starts to rub together it becomes painful and irritating. Boswellia and turmeric are both proven in research studies to reduce the irritation and soothe the joints. They also contain powerful supportive compounds that help prevent cartilage breakdown from occurring due to free radical damage.
Quercetin 25 mg & Methionine 25 mg for Swelling & Cartilage Growth: We're surrounded. Every day our bodies are bombarded with toxins and environmental threats leading to free radical damage. Quercetin contains powerful compounds that fight free radicals within our bodies. While quercetin is busy helping neutralize the threat to our cartilage and tissues, methionine goes to work stimulating our bodies to create new cartilage to replace what was lost due to age and injury.
MSM 25 mg for Cell Nourishment: According to research studies, MSM has the amazing ability to increase hydration and the passage of nutrients through cell walls. The result is nourished and healthier cells, including cartilage cells. MSM also helps to combat the resulting stress you may experience by living in constant joint pain. It is proven to improve your body's stress response.
Bromelain 25 mg for Swelling Relief: This natural ingredient comes directly from pineapples and not only helps relieve pain, it's proven effective in decreasing swelling related to joint pain. In a review of 10 studies on knee pain, soft tissue swelling decreased by 73% and pain decreased by 80%. Participants also experienced a decrease in joint stiffness and an increase in physical activity.
Synergistic Blend of 8 Powerful Ingredients For Complete Joint Health:
Our complex formula approaches joint health from every angle. From superior cartilage protection, to reducing irritation and swelling, our expertly formulated blend does it all. Featuring the highest quality ingredients for maximum joint health benefits.
NON-GMO INGREDIENTS. NO ARTIFICIAL INGREDIENTS, HARMFUL BINDERS OR FILLERS:
Our Glucosamine supplement is 100% natural, pure and manufactured without any harmful fillers, additives, binders, chemicals, or artificial colors and ingredients. We also work hard to minimize, if not completely eliminate, GMOs from our supply chain to ensure product safety while protecting our resources and moral responsibility to our valued customers.*
3rd PARTY TESTED FOR MAXIMUM SAFETY:
At NutriRise, although it is not mandated by the FDA, we test each and every lot of raw materials and finished products to ensure they are pure and free of heavy metals and contaminants. Our Glucosamine supplement is sourced from Pure, non-GMO, Gluten-free ingredients. It is Paleo and Keto friendly. Our formula sources glucosamine from shellfish, so caution should be taken if shellfish allergy is a concern.
Proudly Manufactured In The United States of America:
At NutriRise, we believe you deserve the best. Customer safety is our highest priority. That's why all of our supplements are manufactured in an FDA-Registered, GMP-Certified facility in the United States. All raw materials and finished products are tested in the United States.
4 Stages Of Testing - Independent & Third Party Tested:
All of our products are tested four times throughout our supply chain. Once, when we receive raw ingredients, again during manufacturing, with further testing on finished products. Our products are also third-party tested by an unbiased, independent organization. This approach ensures our products meet exacting specifications, and that they are safe. In addition, each and every product has an allocated lot number, batch number and expiration date printed on the bottom of the bottle for traceability and transparency - in fact, you can request a COA (Certificate of Analysis) for each product to learn more.
Reduces Cartilage Breakdown
If you have joint pain, you may have thinning cartilage to some degree. Age and overuse cause your cartilage to wear thin. But there's good news! Studies show that ingredients in our formula, such as glucosamine, chondroitin and methionine help to protect our cartilage from breakdown. In fact, a glucosamine study on a group of 41 cyclists showed that glucosamine supplementation reduced cartilage deterioration by as much as 27%. Additional studies found that it helps to maintain healthy collagen, which holds your cartilage together and keeps it from deteriorating.
Helps Relieve Joint Discomfort
Aching joints are synonymous with aging, but they don't have to be. More than 54 million Americans live with arthritis. The common treatment for joint pain is over-the-counter pain medication. With continued use, studies show that glucosamine helps to soothe aching joints. It was the clear winner compared to the placebo. Interestingly, patients reported similar relief when compared to people taking standard pain relievers. As an added benefit - glucosamine has none of the unpleasant side effects associated with other treatment options!
Decreases Swelling & Irritation
Swelling - an unpleasant side effect that occurs from trauma or injury. Your immune system works overtime to help heal the affected area, but sometimes it goes above and beyond, creating additional problems. Studies show that ingredients in our joint formula help to balance your body's response, reducing swelling and decreasing irritation. They help to produce several types of cells helpful in your body's healing process. One ingredient in particular, boswellia (also known as frankincense) is shown in studies to decrease swelling and increase range of motion and the overall walking distance of participants.
Encourages Cartilage Growth
Protecting your cartilage from breaking down is great. But what if you're already dealing with pain due to thinning cartilage? No worries! Research studies show that our ingredients provide the components to help rebuild cartilage in your joints! Chondroitin is shown to stimulate cartilage production within your body. Methionine and MSM provide the necessary amino acids for healthy cartilage production. All of these components decrease with age, and by supplementing with our Glucosamine Chondroitin formula, you provide the building blocks for healthier, more comfortable joints.
[US Domestic Shipments
All items are shipped within 24 hours ~ 72 hours of payment, unless specified otherwise in the item details page, via USPS First Class Mail, or Priority Mail, which takes about 2 to 9 business days within USA. If you need your item by next day, second day air delivery, please email me and I will provide you with the information. All orders will be shipped only to the address listed at the time of the transaction.
International Shipments
All items are shipped within 24 hours ~ 72 hours of payment, unless specified otherwise in the item details page, via
1) USPS First Class Mail Int'l which takes about 15 ~ 25 business days
2) USPS Priority Mail Int'l which takes about 14 ~ 20 business days
3) Fedex Priority Express, which takes about 7 to 10 business days,
However, these are only normal estimated delivery schedule, so all three services, mentioned above, can vary based upon origin, destination, and local customs processing. We are not responsible for any customs delays what so ever. However, Import duties, taxes, and charges are not included in the item's price. These charges are the buyer's
responsibility. Please check with your country's customs office to determine what these additional costs will be prior to bidding or buying. Furthermore, we are not responsible for any customs delays what so ever. If you have any questions please contact me before bidding. All orders will be shipped only to the address listed at the time of the transaction.
Thank you.]
PAyments
[We accept payments through Ebay managed payment, and PayPal.
Sorry but I DO NOT accept Cash, or Checks as payment.]
Returns
Only domestic returns will be accepted for unused items if mailed within 14 days of delivery date. Sorry but we do not accept returns for Int'l orders. All products have to be in the same brand new condition as received including all accessories, packaging material, and it's original box. Please contact me before returning an item so that we can avoid any problems that can occur. However, make sure the item is insured and track able. Rarely it gets lost but it happens and I'm not responsible if it does get lost in transit.
| | |
| --- | --- |
| MPN | Does not apply |
| Brand | NutriRise |
| ISBN | Does not apply |
| UPC | Does not apply |
| EAN | Does not apply |